PT13101 Rii i8+ Mini Wireless Keyboard With Touchpad
Product Code :

PT13101

Availability :

In Stock
---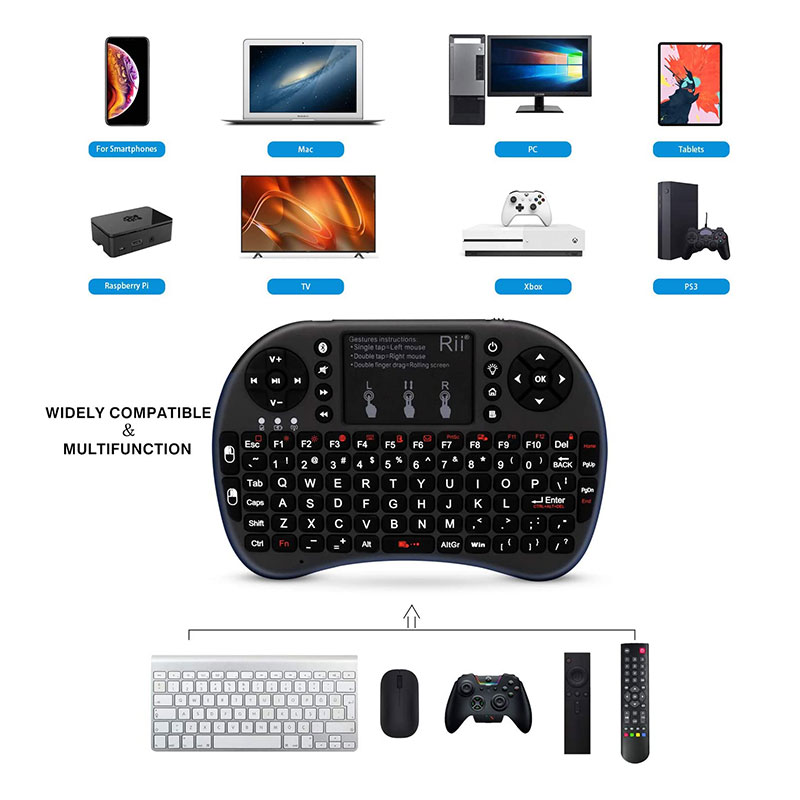 The Rii i8+ is an ultra slim mini wireless keyboard with central touchpad.
This is the latest version, with backlit LED, rechargable li-ion battery and
ultra-comfortable silicone back. It also features a handy D-pad, perfect
for media center use!
The Rii i8+ makes commanding XBMC and traversing the Raspberry Pi
console a breeze. The keyboard is soft-touch with excellent tactile feedback
(not the type that gets stuck!), so it's both comfortable and intuitive to type
on. The mousepad is sensitive enough to control across large resolutions,
but not so sensitive that you need a pin to aim it. It's also positioned so
you won't accidently brush it when you're typing.
It's been tested for full compatibility, and comes equipped with a tiny,
low-current nano dongle, so there's no messy wires to trip over. This is
an official Riitek product, not one of the many lousy imitation products
that are on the market. It also features an internal rechargeable battery
and USB cable, so just charge it up and you're ready to go!
Features:
92 keys, 2.4Ghz wireless Keyboard with Touchpad.
Touchpad DPI adjustable functions.
Built-in high sensitive smart touchpad with 360-degree flip design.
LED backlit keyboard
Mini QWERTY keyboard with multimedia control keys and PC gaming control keys.
Auto sleep and auto wake mode.
The Ergonomically handheld design is easy to carry and operate.
Build-in removable rechargable Li-ion battery that has longer standby time.
Specification:
Maimum operating range: 10 meters
Frequency range: 2.403GHZ ~ 2.480GHZ
Operational voltage: 3.3V
Charge Voltage: 4.4V ~ 5.25V
Modulation: GFSK
Layout: UK
Channel: 78
TX Power: less than +5dBm
Transmission rate: 1M bit/sec
Frequency tolerance: +/-30ppm
Power consumption: 55mA(on), 1mA(sleep)
Battery Type: Built-in lithium-ion battery


Package Including:
1 * Wireless keyboard
1 * Charging data cable
1 * User manual